A New Generation of Teenage Superheroes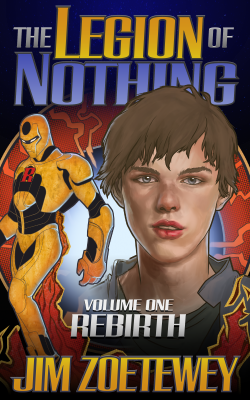 As you may have heard, we will be publishing the young adult superhero series The Legion of Nothing by Jim Zoetewey.
The Legion of Nothing: Rebirth, the first volume of the series, is a coming-of-age story about Nick Klein, a teenager who has inherited his grandfather's superhero identity and powered armor. But with power comes responsibility, for Nick has also inherited his grandfather's unfinished business. Between homework, corrupted politicians, teenage relationships and supervillains, Nick struggles to solve the city's corruption–before it solves him.
In Jim's own words:
"The story comments on the various ages of comic book history, and people who know their superhero fiction recognize them instantly. But I deliberately chose points of difference important to comic book and superhero fans. For example, characters grow gradually older, and when a character dies, they're really dead. No resurrections. Set in the non-existent city of Grand Lake [read Grand Rapids], I let the characters live the life of any teenager in West Michigan."
Needless to say, I'm delighted Jim has chosen to publish his serial with us.
The Legion of Nothing began serializing online over on inmydaydreams.com in 2007 and is still going strong. Over the last few months, we've edited, revised and fine-tuned the first part of the series… and I hope you enjoy the finished product.
Please give Jim a warm welcome and — if you like your superheroes kickass and with a hint of humour — keep an eye out for the book, coming soon.
About A.M. Harte
AM Harte
is the editor-in-chief of 1889 Labs. She writes twisted speculative fiction, such as the zombie love anthology
Hungry For You
. She is excellent at missing deadlines, has long forgotten what 'free time' means, and enjoys procrastinating online.