Free Beer! Free Books! Freedom!
Announcing Our Latest Release: Freedom Beer by Greg X Graves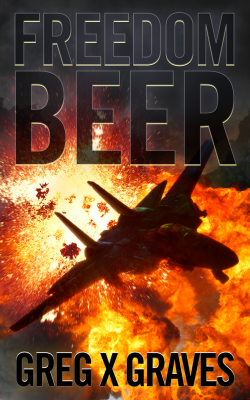 I'll let you in on a secret: the cover of this book existed before the novel was even conceived.
Apparently someone once told MCM that the words "free" and "beer" should never be together on a poster. It was dangerous. Bad marketing. Sheer lunacy.
Of course, they didn't realise that they were speaking to the world's most lunatic individual. Seriously. MCM is so lunatic he makes the moon look like a fiery ball of sunshine.
So he cackled evilly and made the image on the right (minus Greg's name). Then he sent me an email, saying: "LOOK! I put the words 'free' and 'beer' on the same poster and they can't do anything about it, muahahaha!"
Bless, I thought. Doesn't he get his kicks out of the small things in life? I chuckled and deleted the email, prepared to let this incident slip by unnoticed.
MCM had other plans.
"Ooooh!" he thought, disappointed by my lack of interest. "What if this was a book?!"
But MCM, who hasn't written a book in eons, wasn't up to the challenge. Yet who else could possibly have the guts to take on this daunting project? Who else was almost as insane as MCM? Really, there was only one possible candidate.
MCM's next email, image attached, was sly: "Greg. You should write this."
I firmly believe it was the 'should' that trapped Greg X Graves into taking on the challenge of writing Freedom Beer. He would have baulked at a direct order. Turned his nose up at a pleading request. But this–a gentle, unavoidable suggestion?
Hook, line, sinker.
So that is how Greg ended up writing Freedom Beer, a novel about the Rocky Balboa-like protagonist Hank Rockjaw, who is determined to protect his brewery at any costs from an anonymous villain trying to steal his recipes.
And, yes, he even managed to get a jet fighter plane and an explosion into the novel.
Greg is that good.
But don't listen to me. Take it from review site Hopelessly Devoted Bibliophile, who described Greg as "nothing less than confusing and brilliant at the same time". Or from In Which Ems Reviews Books, who said: "When your family comes to investigate the source of your raucous laughter, you know it's good stuff."
So what are you waiting for? Go check out Freedom Beer right now.
[Disclaimer: This entire post may or may not be fiction. I'll leave it up to you to decide.]
About A.M. Harte
AM Harte
is the editor-in-chief of 1889 Labs. She writes twisted speculative fiction, such as the zombie love anthology
Hungry For You
. She is excellent at missing deadlines, has long forgotten what 'free time' means, and enjoys procrastinating online.