What Went Wrong
Greetings, humans!
I bet you're wondering what's gone wrong. I need to explain, because it has screwed up many a-person. And not just the various segments of my personality.
I just finished a massive cross-country move (and "finished" is a broad concept, because we're not done yet). Before that, I spent the month of June in a state of anaphylactic shock for reasons that have not yet been pinned down. Suffice to say, not much gone done.
The only things that got finished were things that were already mostly done. Terra and Gabriel's books, both long in development, snuck out in one piece (well, technically Gabriel's comes out tomorrow). But other titles are badly off-kilter. Kit's new book is on the top of my list, and then Terra's second book, and then… then…
Okay, let's put it on the table. I haven't got RollBots: Endgame done yet. It's close, but writing was hard when on Benadryl, and I want it to kick ass. Similarly, the revised Polarity is late, and probably won't be done until closer to Dustrunners 3 is written in November. And I still have to edit The Archivists. And the site is in utter disarray (which Terra is doing a fantastic job of covering up).
So here's my priority list for the next few weeks:
Launch Bone Fragments
Launch Slash and Burn
Write RollBots: Endgame
Launch Antithesis: Book 2 Alpha
Edit The Archivists
And fix the site.
If I seem t be falling behind anywhere, please feel free to beat me in the head with a stick. This time last year, I was ramping up to write Arkady and Kain (which also needs editing), but this year I'm trying to survive one day at a time. Quite a change. But with a little energon and a lot of luck, I'll get things back on track.
And/or Anna will kill me.
In the meantime, check out the Endgame cover: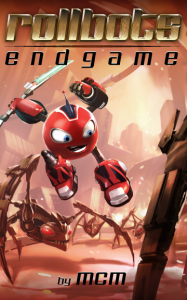 About MCM
MCM is the creator of the animated series
RollBots
. He also writes books, such as
The Vector
,
The Pig and the Box
, and
Typhoon
. When not doing such things, he is coding sites like this one. He is also insane.