Your Monthly Check-Up
Have you been putting off that visit to the doctor? Ignoring that toothache?
Shame on you!
But never fear! I'm almost a doctor. Or at least, I'm the closest thing 1889 Labs has to a doctor, so if you want to make sure you're healthy, you should listen to me.
Now, I can't give you advice on that toothache, but I AM licensed to give you advice on finding happiness. In particular, happiness in the shape of lots of exciting prizes like ebooks, paperbacks, Amazon vouchers, Kindles, and more.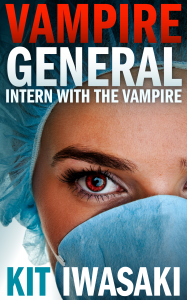 You got it. I'm talking about Party Like It's 1889.
This week on your prescription is my book, Intern With The Vampire. You can get it from Smashwords. You can even get 50% off using coupon code YE35S!
Be Healthy!
There's MORE you can do to increase your chances of winning overall health.
You know what they say: a comment a day keeps the doctor away.
Over at What Book Is That? is my first ever guest post, The Anatomy of a Writer. This is a historic moment! I've written such things as how a doctor ends up magically turning into a writer. (Clue: with blood.)
And ANOTHER first. My first interview! On Two Ends of the Pen I've revealed for the first time where the idea for the Vampire General series came from. #yepreally
So how does this affect your health?
By leaving a comment on What Book Is That? or Two Ends of the Pen, you not only enter their giveaway for a copy of Intern… you ALSO get more chances to win our Kindle giveaway!
The more likely you are to win, the higher your happiness levels, the better your health! Simple!
Besides, typing is good excercise for your fingers. And reading is good eye-excercise.
So my official* advice as 1889 Labs' doctor is:
*advice may or may not be very official.
I'm giving away a $10 Amazon voucher & a paperback of your choosing this week (open worldwide)! Enter to win by commenting below & on the posts linked above. Each comment also counts as an entry to the grand prize giveaway! More details and ways to win available here.
About Kit Iwasaki
Kit Iwasaki
was midway through premed when she realized she loved the heart, but hated blood. It took her a few more years to figure out what to do with her freewheeling life, most of which is not fit to print in a bio. She decided to get back to what she was always doing anyway, and had been as long as she could remember: telling stories.