Three Weeks Later
Only one more week of Party Like It's 1889 left.
Clearly my week has been the best so far.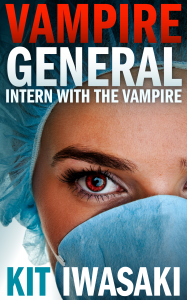 You've had interviews, guest posts, giveaways, a sneak peek at my next book, and even something no other author offered — a short story!
Not to mention all the free medical advice I've been giving out. Let's face it: MCM and Greg X Graves didn't stand a chance.
In case you missed out on any of this week's awesome, here's a recap:
This Week's Prescription
Today is the last day to enter the giveaway for a $10 Amazon voucher and an 1889 Labs paperback — so get your entries in before midnight tonight!
1. Go to the intro post and tell us what type of transhuman you'd choose to be for an instant entry into the giveaway.
2. Comment on my gues posts on What Book Is That? and my interview on Two Ends of the Pen for even more chances to win!
3. Check out the Slash and Burn teasers, and tell me how annoying my cliffhangers are.
4. Comment on my first ever Vampire General short story, The Simple Truth!
5. Tweet about the contest using the hashtag #1889party and get your friends involved!
6. For TEN extra entries, post a photo on the 1889 Labs Facebook wall of you, your cat, or whatever/whoever you want, reading an 1889 book (either print or ebook).
The giveaway closes TODAY, Saturday May 21, at 11:59 EDT, with winners announced tomorrow.
Remember, all your entries to this week's giveaway also count as entries to the Kindle grand prize giveaway. Check out this post for more details.
About Kit Iwasaki
Kit Iwasaki
was midway through premed when she realized she loved the heart, but hated blood. It took her a few more years to figure out what to do with her freewheeling life, most of which is not fit to print in a bio. She decided to get back to what she was always doing anyway, and had been as long as she could remember: telling stories.