The Return of Vampire General
In about a month, the second book of Vampire General will be published.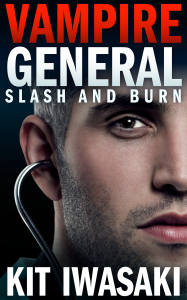 It's called Slash and Burn and it will pick up where Intern With The Vampire left off.
What's Vampire General, you ask? Where have you been this week?!
Vampire General is my debut series. It's Gray's Anatomy with a paranormal twist. Think hospitals. Think vampires. Think medical drama and dramatic medicine. Think True Blood meets Scrubs.
Actually, enough with the thinking. Go grab Intern With The Vampire in the series from Smashwords. I'll even give you a 50% off coupon (expires tomorrow!): YE35S.
Run along. I'll wait here.
Okay, got it? Good.
So now that you're properly angry with me for that nail-biting cliff-hanger at the end of Intern With The Vampire, here's a couple teasers of what's to come in Slash and Burn:
1. Tournament Prospects Ruined
The latest admittance in Vampire General is a tournament-hopeful who's now on death's door. Sources say his cousin is "deeply concerned" by the injury.
2. Unrequited Love Rears Its Head!
What's medical drama without a love triangle to keep things confusing? And is unrequited love strong enough to tear a friendship apart?
3. Blast From The Past
Aline is contacted by someone she never expected to hear from again, and is forced to confront the life she's left behind.
4. A Furry Little Problem
Waxing won't solve this patient's problem, but without a cure, more than one life is at stake.
5. Burn, Baby, Burn
Physical burns take a long time to heal, but there are also other ways to burn: from shame, from embarrassment, and most of all from jealousy….
Nope, I'm not going to give you any more details. You'll have to wait till June to find out what happens next!
An advance copy of Slash and Burn could be YOURS! This month we're giving away a Kindle, advance copies of every book we publish this year, and more! Enter to win by commenting below. More details available here.
About Kit Iwasaki
Kit Iwasaki
was midway through premed when she realized she loved the heart, but hated blood. It took her a few more years to figure out what to do with her freewheeling life, most of which is not fit to print in a bio. She decided to get back to what she was always doing anyway, and had been as long as she could remember: telling stories.