The End is Nigh! Let's Party To Death!
Romance is DEAD! No, really. Like zombie-dead, but in a good way.
So you've frolicked with space pirates. You've taken classes from bears. You've fraternised with vampires.
But THIS week — the last week of our month-long party — you're going to get down and dirty with some zombies.
That's right. Party Like It's 1889's last author is yours truly, A.M. Harte, also known as Anna 'Mistress-of-all' Harte.
And you're going to help me show the other authors what a real party looks like.
To kick things off, let's start with a 50% discount!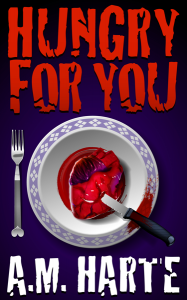 Feeling hungry? Grab yourself a bite of these delicious zombie tales. They're tender, they're spunky, they're tragically funny and morbidly fascinating.
And best of all, some rogue zombie has taken a huge bite out of the $1.99 price! Shuffle over to Smashwords before Sunday May 29 and use coupon code ND25A to get your zombie fix for only $0.99! Impossible to resist!
STILL not convinced?
I'm far from done.
Up for grabs this week is a paperback of your choosing from the 1889 Labs library, not to mention a $10 Amazon voucher to spend on absolutely anything! Yes, even socks! #zombieslovesocks
The giveaway is open worldwide and winners will be chosen using a random number generator which will pull from all the comments my posts receive this week. The more comments you leave, the more chances you have to win, so get your fingers ready!
Get Bitten By Zombies Prizes!
For a chance to win the Amazon voucher or paperback, take a bite from as many victims below as possible!
1. Leave a comment on this very post right now telling me whether you think zombies can swim, and why.
2. Tweet about the contest using the hashtag #1889party and get your friends involved!
3. Post "I, too, am a zombie" on my Facebook page!
4. Check out this week's recap to get extra entries into this week's giveaway!
5. For TEN extra entries, post a photo on the 1889 Labs facebook wall of you, your cat, or whatever/whoever you want, reading Hungry For You (either print or ebook).
Couldn't be easier! The contest closes Saturday May 28 at 11:59 EDT, with winners announced on Sunday.
Remember! Every comment you leave this week is also an entry into the grand prize giveaway for a Kindle, VIP tickets & more! #woohoo
This week's your LAST chance to enter the grand prize giveaway! Up for grabs are a Kindle, VIP tickets (10+ free advance ebooks!), & an ARC of our next upcoming release! What are you waiting for? More details here.
About A.M. Harte
AM Harte
is the editor-in-chief of 1889 Labs. She writes twisted speculative fiction, such as the zombie love anthology
Hungry For You
. She is excellent at missing deadlines, has long forgotten what 'free time' means, and enjoys procrastinating online.